A UNIQUE INSTITUTION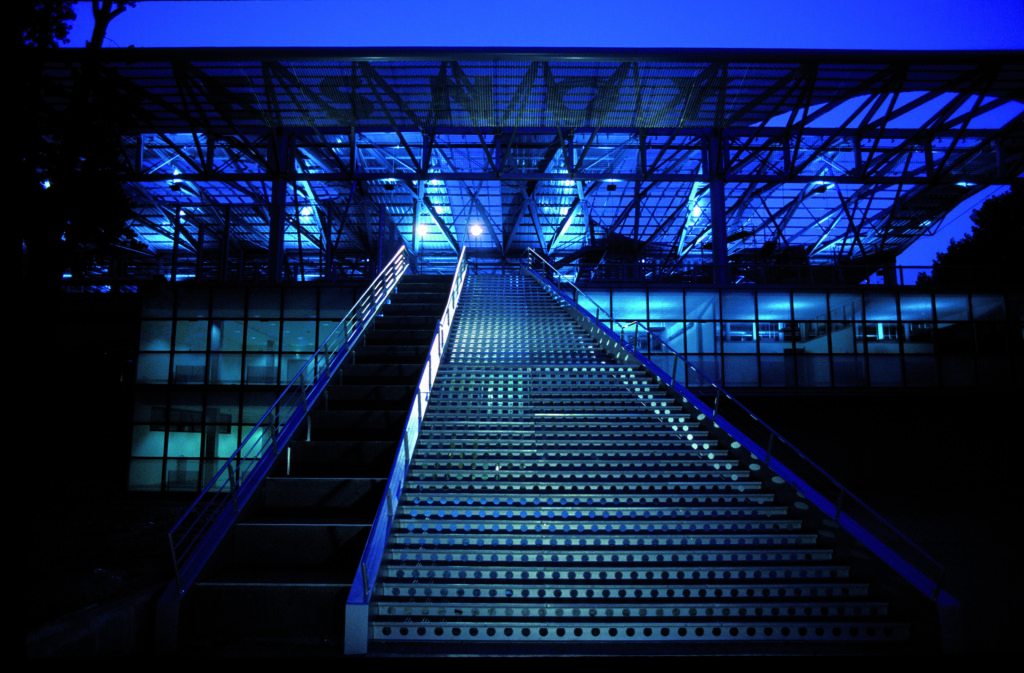 Le Fresnoy – Studio national des arts contemporains is an institution for training, production and distribution in the audiovisual and digital arts. Its aim is to enable young artists from all over the world to create works using professional technical resources in a decompartmentalised environment open to all forms of expression. Its field of work, both theoretical and practical, covers all audiovisual languages, from traditional, lens-based and electronic media (photography, film and video) to digital creation.
Opened in October 1997, it is housed on the site of a former popular entertainment complex which was in operation from 1905 to 1977. Around this the Franco-Swiss architect Bernard Tschumi designed an entirely new building, preserving the spaces of the old one within. The result has been widely acclaimed in France and internationally as one of the most original works of contemporary architecture of its time.
Le Fresnoy – Studio national is co-financed by the Ministry of Culture and the Hauts-de-France Region, with the participation of the City of Tourcoing. Alain Fleischer is responsible for its guiding concept and artistic and educational direction.
In short, Le Fresnoy – Studio national is :
a school attracting students from all over the world
an establishment open to all (exhibitions, cinema, events)
an institution dedicated to creation and innovation
a place for exchanges with major regional, national and international institutions.
500 shows a year in
350 venues across
50 countries
610 students of
70 nationalities
11 000 m²
Dedicated to creation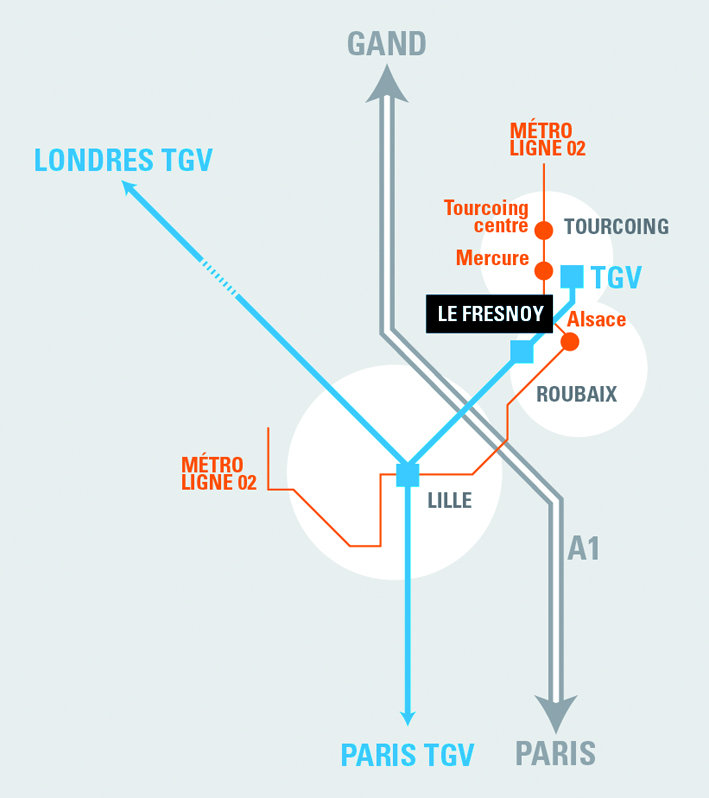 Le Fresnoy – Studio national is located in Tourcoing, in the Lille metropolitan area, equidistant from Rotterdam and Paris (Paris-Lille by TGV: 1 hour), on the border with Belgium and very close to the United Kingdom by Eurostar.
---
STUDENTS FROM ALL OVER THE WORLD
Envisioned during its preparatory phase as a "Bauhaus for electronics," an "Ircam for the visual arts" or a "hi-tech Villa Medici," Le Fresnoy's mission is to complete the French system of artistic, audiovisual and digital education with a unique centre of excellence.
The fundamentals of Le Fresnoy:
A 2-year postgraduate course based on the production of "fully-fledged" works in a wide range of disciplines, with professional supervision, budget and technical resources,
No permanent teaching staff. Students are supervised by visiting artist-professors and visiting scientists from all disciplines, with national and international reputations,
Production of each student project is supported by a professional technical and production team,
Support for the presentation and dissemination of works as part of the annual Panorama exhibition, entrusted to a renowned curator and scenographer,
Doctorate in artistic creation.
OPEN TO EVERYONE
The production of works is backed up by an ambitious year-round events programme (exhibitions, films, conferences, symposiums and performances) that explores the challenges of contemporary creation:. Le Fresnoy – Studio national is keen to bring contemporary art to as many people as possible and is constantly seeking to strengthen its outreach activities in order to widen its audience. The work of the educational department draws on all Le Fresnoy's many dimensions as a teaching, production and distribution establishment in the field of visual arts and cinema.
Powered by its expertise in fields such as the use of new technologies and the intersection of art and science, Le Fresnoy invites artists to share their worlds through exchanges, workshops and collective creative projects. The format varies from one proposal to another, ranging from a single, intensive meeting to a project spread over one or even several years, aimed at schools, cultural structures, associations, social centres, municipalities and individuals.
Exhibitions
Le Fresnoy organises two major international exhibitions each year. Panorama isa major creative event curated by a leading contemporary art professional and held in the autumn. Under this generic title Le Fresnoy presents more than 50 new works in the fields of image, sound and digital creation produced at the school over the past year. These include films, videos, installations, performances, photographs and sound works.
A second exhibition in the spring alternates between monographs, thematic subjects and dialogues orchestrated in collaboration with major collections such as the Thyssen Foundation, the Pinault Collection and the Centre Pompidou.
Cinema
Two cinemas offer an eclectic programme for all kinds of viewers. Visitors come to watch a screening in a building that is both historic and a masterpiece of contemporary architecture, a place for teaching and passing on knowledge about images in their many forms. As you walk down the corridors, you may come across a guest director, an established filmmaker or an up-and-coming artist, all of whom are keen to question cinema and invent the forms it will take in the future.
Cinema at Le Fresnoy means a programme of films combining new works, classics and films for young audiences (fiction, documentary, animation), but it also means providing support, education and discussions across a whole variety of events (previews, films with discussions, festivals, film-concerts, etc.) organised with the school's partner bodies.
Cinéthèque
Cinéthèque screenings at Le Fresnoy are organised as part of the activities set up by the teaching department. Designed first of all for our students, these screenings are free and open to the public every Wednesday at 7pm from October to April. One screening a month is offered in partnership with the Cinémathèque Française. These screenings are an opportunity to see or re-see classics (sometimes in 35mm), experimental films and retrospectives, particularly works by visiting filmmakers.
Cinéfamille
Cinéfamille screenings are family screenings followed by a snack, organised in partnership with the City of Tourcoing. Tickets cost €1.80 and are available on presentation of a voucher, which can be collected from a number of outlets in Tourcoing and presented at the Le Fresnoy ticket office. Cinéfamille takes place every last Sunday of the month at 3pm. To find out where you can pick up a ticket, click HERE.
Research – Conferences / Colloquia
Le Fresnoy is also a place of intellectual enquiry and speculation. Symposiums, conferences and workshops are organised on a regular basis. Philosophers, theoreticians, art historians, scientists and well-known artists are invited to question contemporary arts, but also other fields of thought, particularly scientific– for example, on the question of plasticity or the relationship between art and technology.
The most recent event was the symposium "The Coming Human," held at UNESCO as part of World Philosophy Day in November 2022.
---
AN INSTITUTION DEDICATED TO CREATION AND INNOVATION
Le Fresnoy – Studio national encourages the emergence of innovative works. The process of experimentation here can lead artists to forge partnerships with universities, laboratories or specialist companies. Le Fresnoy is also identified by institutions as a privileged partner in the digital arts.
During the second year of the course, student projects are required to be based on digital tools: interactive or programmed video or audio production, electronic audio production, animation and advanced digital imaging, reactive, interactive and immersive environments, networks and databases, virtual and augmented reality, movement, capture and localisation technologies, new interfaces, artificial intelligence and generativity, robotics, lighting technologies and technologies for the stage.
A STRUCTURE IN DIALOGUE WITH THE MAJOR REGIONAL, NATIONAL AND INTERNATIONAL INSTITUTIONS
Centre Pompidou, Pinault Collection, Gaité Lyrique, Palais de Tokyo, Quai Branly, UNESCO, Collège de France, ENS Paris-Saclay, UQAM, CNRS, INRIA, CNES, ZKM, MIT, Cité Internationale des Arts, Fondation d'entreprise Hermès, Neuflize OBC, LVMH, FIFA, Renault, IRCAM, Louvre-Lens, Opéra de Lille, Palais des Beaux-Arts Lille, Université de Lille, LaM, Muba, IMA Tourcoing, regional and French art schools, Villa Cavrois, Institut pour la Photographie, CRP, FRAC Grand Large, FRAC Picardie, INSAS Brussels, WIELS, Fédération Wallonie-Bruxelles, Next Festival, Atelier de Lyrique de Tourcoing, Séries Mania, Lille 3000…
---
LE FRESNOY: CO-PRODUCER OF NUMEROUS PROJECTS
Every year, three committees are set up to examine applications to host external projects, which enables us to optimise the use of our professional facilities. The first requirement is, of course, artistic merit, followed by the availability of the equipment requested. Every year, between 30 and 50 regional, national and international projects are supported.
---
THE FRIENDS OF LE FRESNOY
The friends of Le Fresnoy is a voluntary cultural association set up in 2003 by collector Michel Poidevin. Its aim is to support Le Fresnoy – Studio national des arts contemporains, directed by Alain Fleischer.
As a member of the Friends of Le Fresnoy, you can:
take part in the selection and presentation of the Friends of Le Fresnoy awards as part of the annual Panorama exhibition,
benefit from a reduced rate at the Le Fresnoy cinema and a 20% discount on Le Fresnoy publications
benefit from a discount on the purchase of the C'Art card,
enjoy access to a variety of events: openings, exhibitions, performances, screenings, previews,
benefit from free admission or preferential rates at the various events taking place at Le Fresnoy,
take part in outings organised by the Friends of Le Fresnoy to various cultural venues,
consult the works in the media library,
A word from the President
"As President of the Association des Amis du Fresnoy, with our many enthusiastic friends, we want our association to become even more involved as active ambassadors for this magnificent institution, which is recognised nationally and internationally.

Our committees – communications, corporate sponsorship, student relations, events and the life of the association – enable all those who wish to do so to participate in a precise and effective way.

We have created the Friends Prize, which is awarded to a student whose work has been singled out by members at the Panorama exhibition, the annual exhibition of work from Le Fresnoy.

The exhibitions and events are of the highest quality, and our region is fortunate to be able to live at the heart of contemporary creation with Le Fresnoy. Join us and let's experience this wonderful and enriching adventure together."

Philippe Wilhelem, President
Join the Friends of Le Fresnoy and come and share in the adventure of contemporary creation!